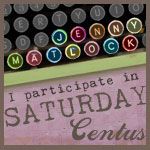 It's Saturday Centus at Jenny's, and yes, I'm playing! Remember the drill from last time? (100 words in response to a prompt that must be included in the body of text, right?) The prompt is in red. Here goes...
Incredible! Who moves like that? Clapping with unexpected appreciation, Mary turned to her dad. Immediately, her hands dropped. Where was he? The circus was his idea. Her stomach lurched, wonder suspended.
"Excuse me," she whispered, pushing through the crowd.
Familiar tightness entered her. Chill out. He's in the restroom. But her body wasn't listening. Old habits. Deliberately, Mary relaxed. Where was that exit?
"May I help you, miss? You look puzzled."
"Mmmm… thank you, I'm just looking for my father. We came in together a moment ago, but he seems to have wandered off."
Her smile slipped as she offered a description, answering questions. Did it matter where he worked? Quit wasting time. Start looking. Before...
Later, they found him in the funhouse, reeking of cheap alcohol, giggling like a child.